10.04. – 31.05.2019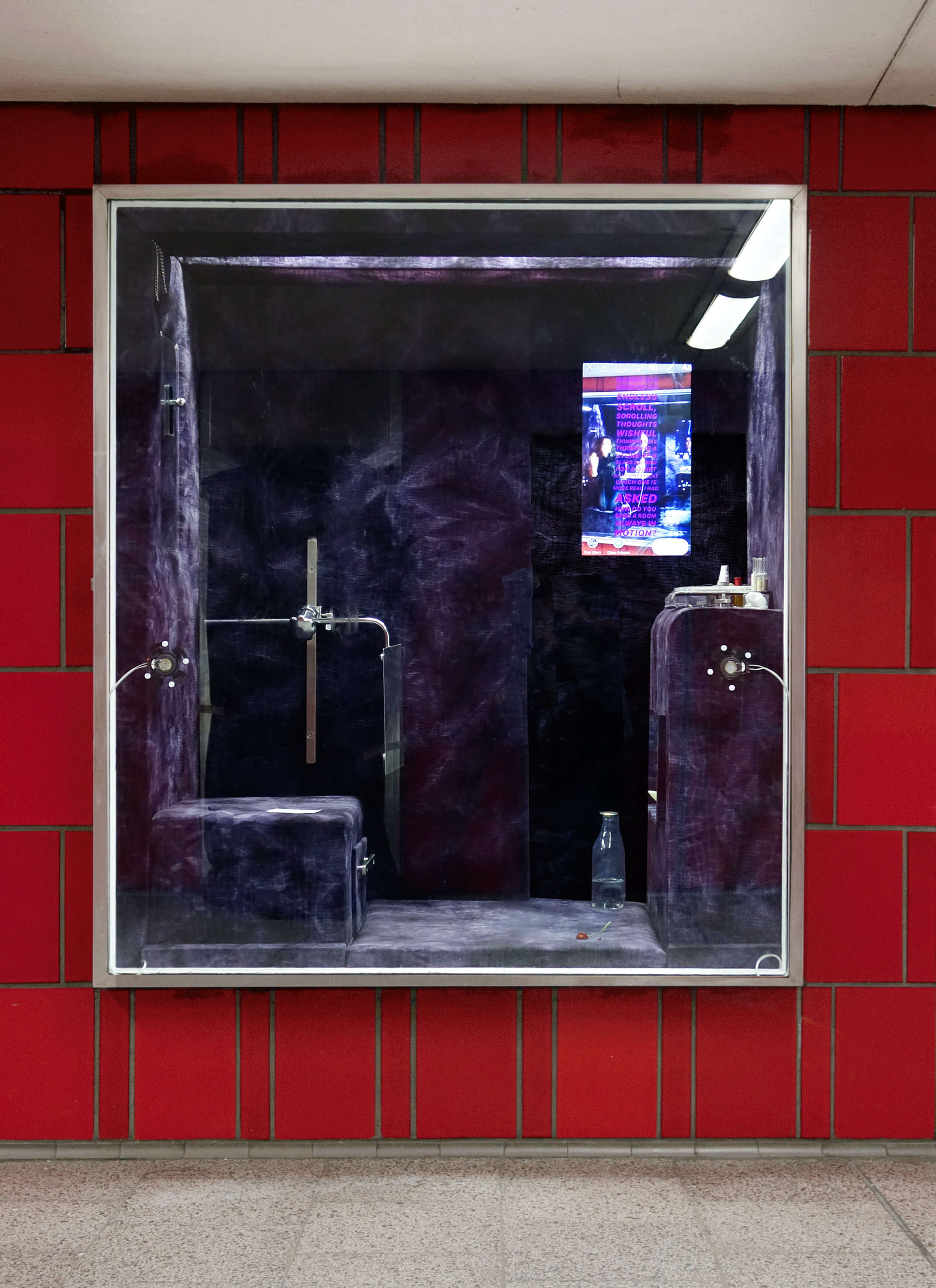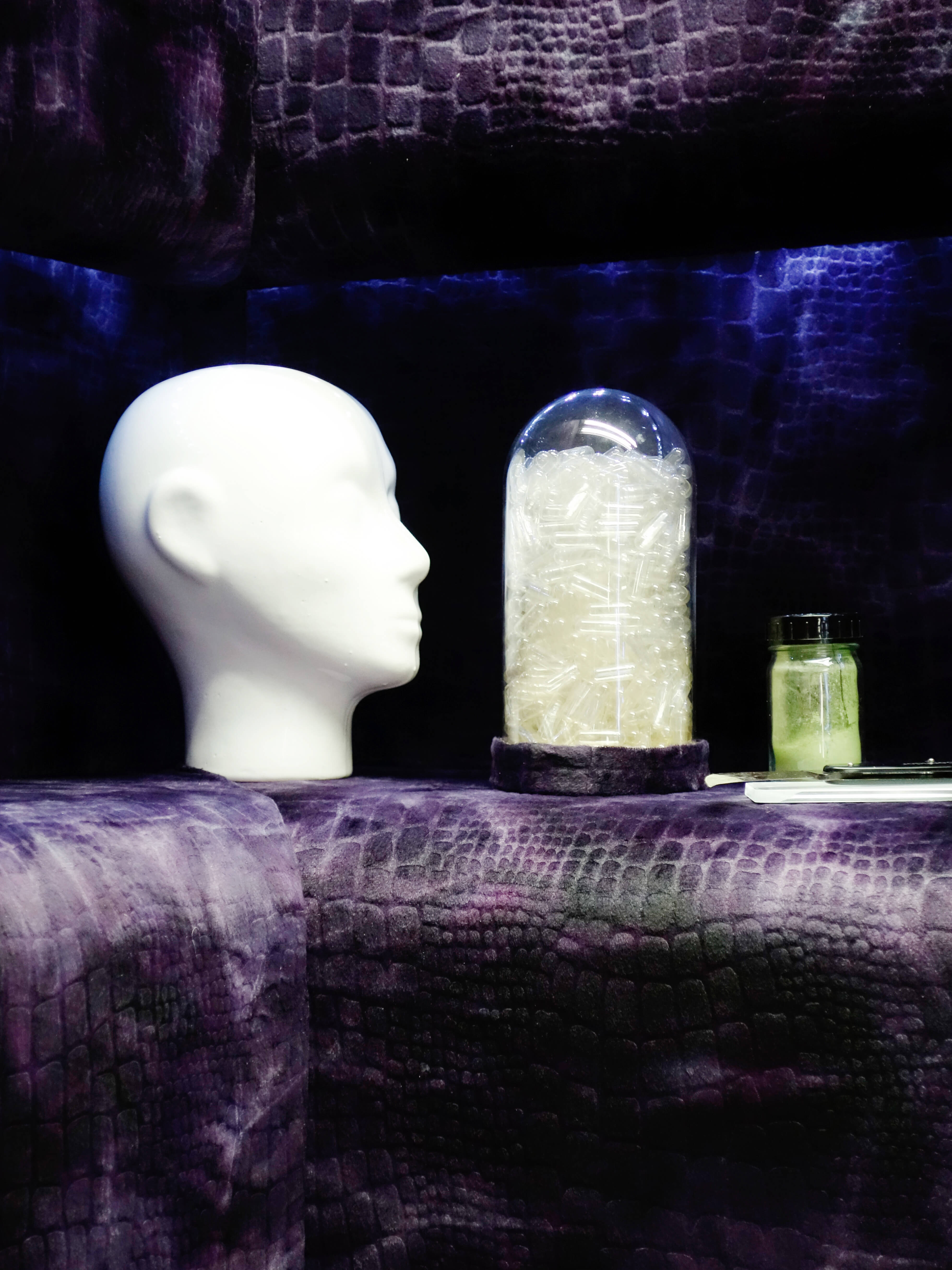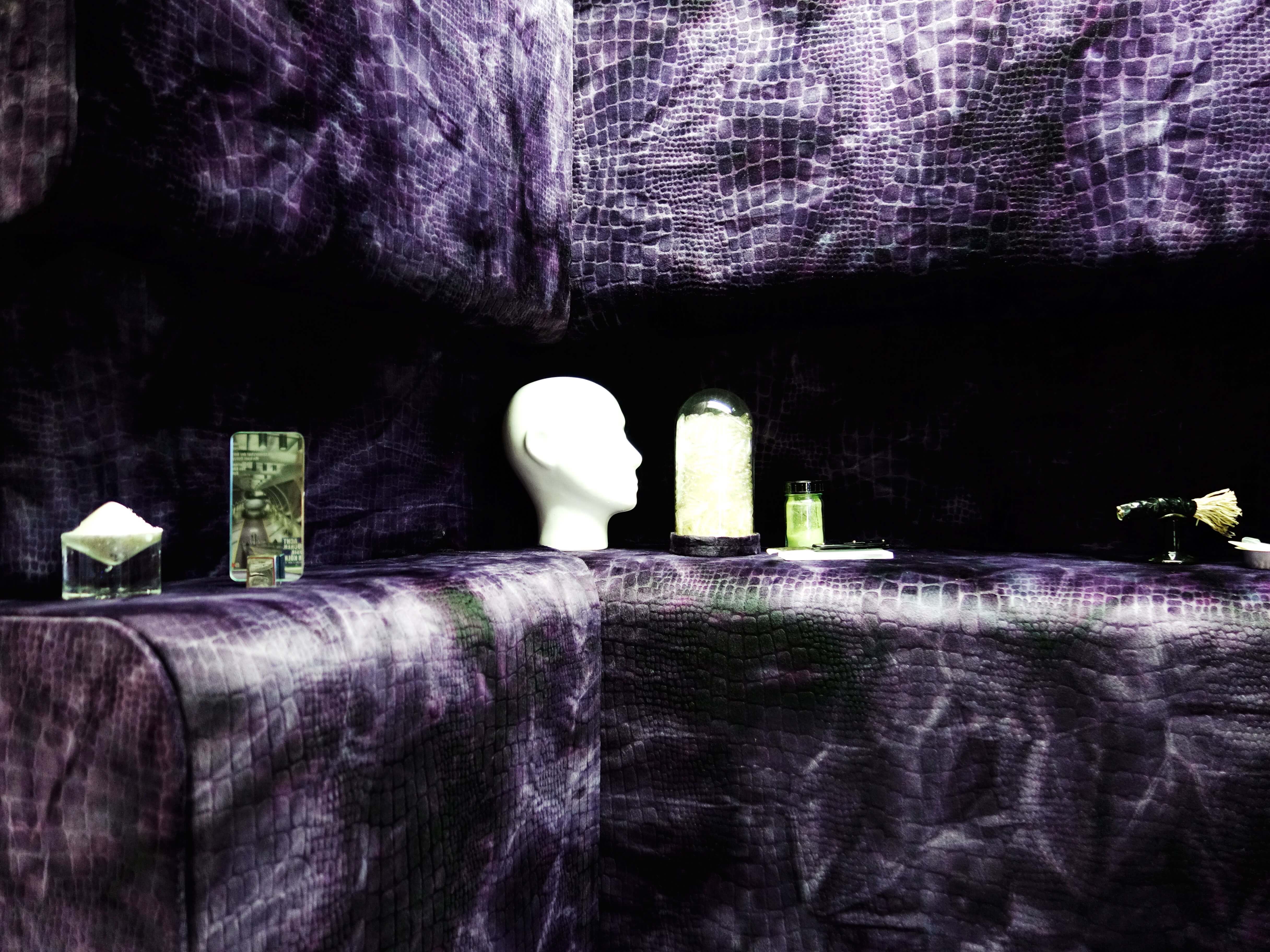 Fette Sans lebt und arbeitet in Berlin.
Ihre Werke vereinen konzeptionelle und interdisziplinäre Ansätze, die die Produktion von Bildern, Schreiben, Performance, Online-Gesten, Filmemachen, Diskussionen und Installation umfasst. Sie beschäftigt sich mit sozialen Systemen, Repräsentation und Technologie und entwickelt obsessive Rituale, Kollaborationen und spekulative Narrative, um diese zu hinterfragen.
Ihre Arbeiten wurden kürzlich im Brandenburgischen Kunstverein in Potsdam gezeigt, sind derzeit in der Exile Gallery, Wien zu sehen und werden bald an der Bahaus-Universität in Weimar präsentiert.
–
Fette Sans is based in Berlin.
She has a conceptual and 
interdisciplinary practice that includes the production of images, writing, performance, online gestures, filmmaking, discussions and installation. Concerned with social systems, representation and technology, she develops obsessive rituals, collaborations and speculative narratives to question these issues.
Her work was recently shown at 
Brandenburgischer Kunstverein in Potsdam and at Exile in Vienna and will be presented at the Bahaus University in Weimar.
Text:
Engl. Text: Phillipp Wüschner
Übersetzung von engl. zu dt.: ≈ 5
Am Ebertplatz in Köln, in der Unterführung der U-Bahnstation, befindet sich zur Zeit eine Box in einer Frau. Während die Gegenwart von Frauen im öffentlichen Raum im Laufe der Jahre von den meisten Menschen als eine unglückliche, aber unvermeidliche Tatsache des modernen Lebens akzeptiert wurde, bleibt die Gegenwart eines inneren Raums einer Frau eine Irritation, die mit der starken Doppelbindung aus Forderungen und Einschränkungen, die das Klischee eines inneren Lebens kennzeichnen, in eine Kiste gepackt und doppelt verknotet werden muss. An selber Stelle sind auch zwei große Glasboxen nebeneinander in die Wand der Unterführung eingelassen. In der linken von beiden saß die Frau mit der Box in ihr und schwitzte, während auf der anderen Seite Spuren ihrer Abwesenheit zu sehen waren. Diese Boxen waren einmal für Werbung gedacht, aber der sozioökonomische Niedergang der Nachbarschaft hatte sie irrelevant gemacht. Es war eben diese Irrelevanz, die nun von der Galerie als ihr Zweck beworben wurde. Nach den Geschehnissen im letzten Jahr, hatte auch die Stadt begonnen zu hoffen, dass Kunst und Kultur einen positiven Einfluss auf den Ort hätten und man sprach von sozialer Kontrolle durch eine wachsende Öffentlichkeit. Man hatte auch den exzentrischen Brunnen repariert. Die Frau fand es komisch, dass die Menschen, die sie beobachtete, Überwachungsarbeit für die Stadt betrieben, im Glauben, sie würden einfach abhängen. Aber als sie versuchte, dies einem hübschen Passanten mitzuteilen, der angehalten hatte, um sie anzusehen, lächelte er unbeholfen und ging weg. Es fiel ihr wieder ein, dass die meisten Männer Intimität nicht von Privatsphäre trennen konnten, und sich in der Regel weigern, Erstere zu geben, ohne Letztere zu fordern. Ihre anderen Kontaktversuche wurden größtenteils ignoriert. Als jemand, dem sie ihre Nummer gegeben hatte, anrief, geschah es nur, um ihr zu sagen, dass es ein Versehen war. Eine Handvoll Leute hatte angehalten und ihr zugewunken, aber bald wurden sie dieser sinnlosen Übung der sozialen Interaktion müde. Einige nannten ihre Arbeit eine faszinierende Art und Weise den Raum zu feminisieren. Einige folgten ihr auf Instagram. Am Ende aber war es für alle recht angenehm geworden, die Frau zu übersehen. Gleichzeitig blieben die Ereignisse auf dem Ebertplatz von der Frau nicht unbemerkt. Es kam zu einem Dutzend kleineren Drogendelikten, einer recht unangenehmen Auseinandersetzung über Geld, und zu einem Streit zwischen einem Paar, der wie das Vorspiel zu einem Fall häuslicher Gewalt erschien. Auch ein gewisse Anzahl von Balgereien mit der Polizei, deren legale Rechtfertigung die Frau nicht einschätzen konnte. Einmal wurde ein Messer gezückt. Die Frau in der Box spürte ein überdurchschnittliches Maß an Bedrohung und ein unterdurchschnittliches Maß an Langeweile.
Die Box, die sich  in der Frau befand, war dagegen mit einer eigenartigen Gewalt getroffen worden. Fast jeden Abend hatten Männer auf die Glasscheibe gepinkelt (oder hatten sich beim Versuch dabei nass gemacht), Kinder sagten, die Kiste solle sich verpissen, Trunkenbolde warfen Flaschen darauf, und der örtliche Verrückte hatte sie stundenlang angeschrien. Natürlich blieb das alles nicht unbemerkt für die Frau, die ständig beruhigt wurde, dass es nichts mit ihr persönlich zu tun habe. Sie solle sich daran nicht stören. Ob es sie störte oder nicht, bleibt ihr Geheimnis. Offensichtlich gab es immer schon Boxen in Frauen, die Versprechen der Intimität, des Schutzes und der Fürsorge hielten. Auch sie wurden für falsche Werbezwecke eingesetzt. Ob der Aufstieg des Internets mit all seiner öffentlichen Präsenz von Intimität zu einem gleichwertigen Niedergang ihres Wertes führen wird, bleibt abzuwarten, aber es ließe sie sich fragen, ob es an dem Mangel an einem eindeutigen Zweck der jeweiligen Kiste in ihrem Inneren lag, welcher den ganzen Ärger geweckt hatte.
Die Box war keine Kamera, aber sie funktionierte auf ähnliche Weise, noch war es ein Gehirn oder ein Herz, obwohl Gedanken und Gefühle bei ihrer Einrichtung eine große Rolle spielten. Vielleicht verglich man sie am besten mit einem Fluchtwagen mit Kofferraum, der mit gestohlenen Gütern aus geplünderten Kirchen und überfallenen Hotelzimmern gefüllt war. Ein Verbrechen war bislang nicht begangen worden. Sie öffnete den Kofferraum und stellte alles, was sie gestohlen hatte, zur Schau, dann setzte sie sich hinter das Steuer. Manchmal, hatte jemand gesagt, sei es am besten, hinter Glas zu bleiben und im rein optischen Teil des Daseins Erleichterung zu finden. Nähe bringt Komplexität, dachte sie, als der Roadkill anfing, die Windschutzscheibe zu treffen. Sie hatte aus Gründen, die niemanden etwas angehen, beschlossen, die Dinge auf den Kopf zu stellen und fürs Erste eine Frau in einer Kiste zu werden.
–
At Ebertplatz, Cologne, in the underpass of the subway station, you can now find a box inside a woman. While the presence of women in public space has over the years become largely accepted by most people as an unfortunate but inevitable fact of modern life, the presence of the inner space within a woman remains to be an irritation, which has to be boxed and tied up with the strong double bind of demands and restrictions that mark the cliché of an inner life. There are also two large glass boxes fitted into the wall of the underpass.  In the left of which sat the woman with the box inside her, sweating, while in the other one traces of her absence were on display. These boxes used to be for advertising, but the socio-economic demise of the neighborhood had rendered them irrelevant. It was this very irrelevance that was now advertised as the boxes' purpose by an art gallery. Art and culture, the city hoped, would have a positive impact on the place and they spoke of social control by surveillance through the general public. They had repaired the eccentric fountain, too. The woman thought it was funny, how the people she was observing were doing security work for the city, believing they were just hanging out. But when she tried to share this with a handsome passerby, who had stopped to watch her, he smiled awkwardly and went away. She remembered that most men could not separate intimacy from privacy, refusing to offer the former without demanding the latter. Her other attempts of making contact were mostly ignored. When someone whom she had given her number would call, it was just to tell her that it had happened by mistake. A handful of people would stop and wave at her, but soon tire of this futile exercise of social interaction. Some called her work an intriguing take on feminizing space. Some started following her on Instagram. But eventually, everyone had become pretty comfortable overlooking the woman. At the same time, the things that happened at Ebertplatz did not go unnoticed by the woman. There were a dozen minor drug offenses, one rather nasty fight over money, and an argument between a couple that seemed like the prelude to domestic abuse. Also, a fair number of quarrels with the police, the legal justification of which she was unable to assess. One time, a knife was drawn. The woman inside the box felt an above-average level of threat, and a below-average level of boredom.

The box inside the woman, on the other hand, had been met with a peculiar violence. Almost every night, men had peed on the glass pane (or had wet themselves while trying), children told the box to fuck off, drunks had thrown bottles at it, and the local mad person had screamed at it for hours. Naturally, all of this did not go unnoticed by the woman, who was constantly reassured that it had nothing to do with her personally. Therefore, she should not mind. Whether she minded or not remains her secret. Obviously, there have always been boxes in women, holding promises of intimacy, shelter, and care. They, too, have been used for false advertisement. Whether the rise of the internet, with all its public display of intimacy will lead to an equal demise of their value, is still to be seen, but it made her wonder if it was the lack of a clear purpose of the particular box inside her that had stirred up all the anger. 
The box was not a camera, yet it worked in similar ways, nor was it a brain or a heart, though thoughts and feeling were very much involved in its set up. It was maybe best compared to a getaway car with a trunk filled with stolen goods from pillaged churches and mugged hotel rooms. No crime had been committed, so far. She opened the trunk putting everything she had stolen on display, then she sat down behind the wheel. Sometimes, someone had told her, it is best to stay behind glass, finding relief in the purely optical part of existence. Proximity brings complexity, she thought, as the roadkill started hitting the windshield. She had, for reasons that are no one's to speculate about, decided to turn things inside out and become, for the time being, a woman inside a box.
Mit freundlicher Unterstützung der/with kind support by  Kunststiftung NRW
Produktion/production: Frank Hauschildt